Best Holiday Parks in Norfolk by the Beach
See Our Top Parks for Caravan Holidays in Norfolk
One of the most sought after factors when going on holiday in Norfolk is being near a beach. Why not, Norfolk has some beautiful beaches from long sandy stretches to pebble beaches, there are a large number of great beaches to explore. Here we provide you with a range of our best beach based holiday parks on the Norfolk coast. The popular resort Great Yarmouth and the long sandy stretch of beach has a large number of beach based holiday parks and here we choose our best holiday parks by the beach in Norfolk.
These are holiday parks by or within a short drive of a great beach, chosen for their location and facilities and the fact that they are close to a great beach. Norfolk has many superb beaches and beautiful towns and villages dotted along the coastline. A long standing destination for beach holidays, we hope that you enjoy our top beach lodge and caravan parks in Norfolk. You can also visit out best dog friendly holiday parks in Norfolk  and find great holiday parks with static caravans for sale in Norfolk by following these links.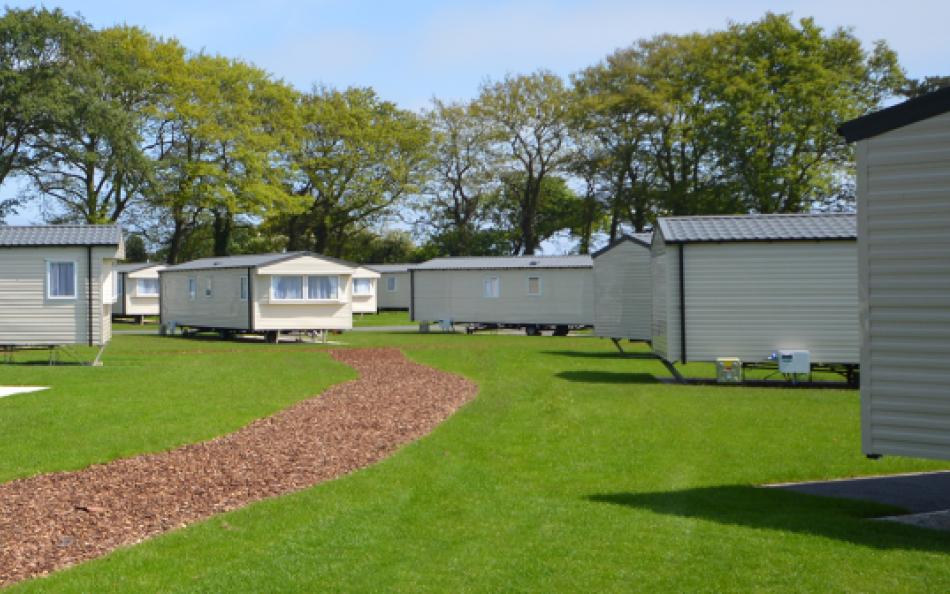 Hemsby, Great Yarmouth
Hemsby Beach Holiday Park is an alternative choice for families that want a traditional holiday park just a short walk from the beach that has two miles of sand and has RNLI beach lifeguard cover in the summer. The beach is backed by grass and dunes and behind that are several road, a fun park, places to eat and drink and enjoy the sun. This is one of most popular beaches on the Norfolk coastline and Hemsby sits north of Scratby and California on  the same stretch of coastline. The park offers two complexes, the Yacht Club leisure complex and the Quarterdeck entertainment complex and is a medium sized park.
Hemsby Beach Holiday Park is privately owned and you get attention to detail. The park has everything that the larger chain owned parks have to offer including entertainment, indoor pool, bar, restaurant and both indoor and outdoor play areas. As a privately owned park, there tends to be more attention to detail, the staff have a great reputation for caring about you and your holiday and the park is maintained to a very high standard without being over whelming.
Why Choose Hemsby Beach Holiday Park for a Norfolk Beach Holiday?
All of the facilities that you would expect including pool, gym and play areas.
Very family orientated with great entertainment.
Just a short walk to the 2 mile long sandy beach.
Family friendly and not so much in your face!
Hemsby Beach Holiday Park
Beach Rd
Hemsby
Great Yarmouth
Norfolk
NR29 4HR
Tel: 01493 809903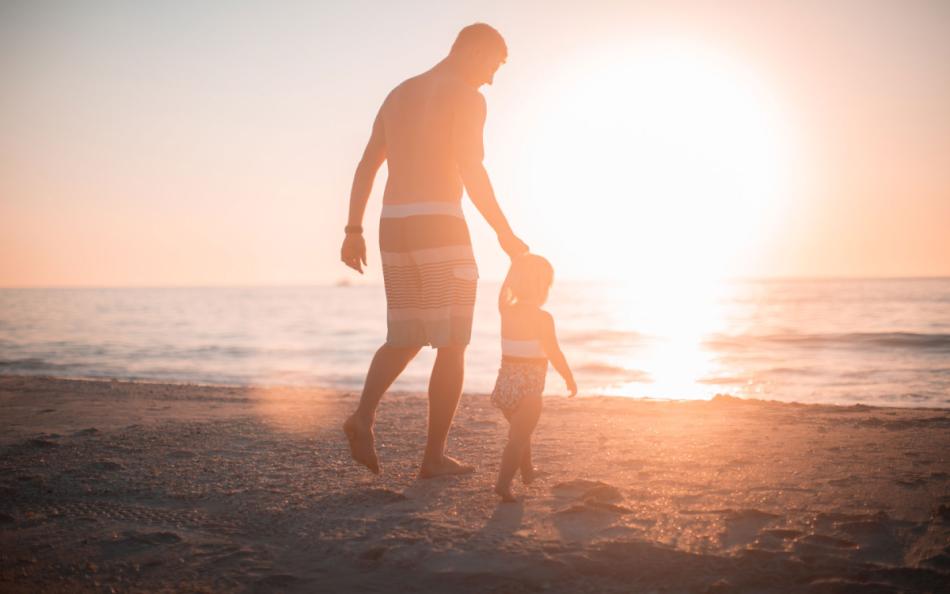 North Denes, Great Yarmouth
Seashore Holiday Park in Great Yarmouth has to be included here because it is by the sea shore, well, not quite, there are some sand dunes in the way but it is as close as you can get! This is the holiday park if you want everything for the family, keeping the kids entertained, adults happy and no fighting for a car parking space to get down to the beach, everything you need is here!
So top of the bill at Seashore Holiday Park is the Shore Water Park, if your kids love flumes and slides, there are plenty here for all ages including a splash area, want to try your hand on the Coastal Cyclone? Alternatively, why not try the climbing wall, if you like heights. There is crazy golf, One Big Jump, a multi-use sports court, adventure play grounds and you will never go hungry with Papa John's, Burger King, the Cakery and Pizza Deck all on site.
This is a static caravan park in Norfolk with a range of caravans to suit all budgets including dog friendly caravans. The park is in a great location, a decent stroll or short drive into Great Yarmouth where you can enjoy one of the most established tourist resorts in the country. This location is about entertainment, there are so many places to visit, great beaches and if the weather isn't that great, lots of indoor based venues to explore.
What Makes Seashore Holiday Park a Great Beach Holiday Park?
Amazing location, the beach is on your door step!
Really big park with every facility including a water park.
Lots to do whatever the weather.
Ideal for a caravan holiday in Great Yarmouth.
Seashore Holiday Park
North Denes
Great Yarmouth
Norfolk
NR30 4HG
Tel: 01493 851131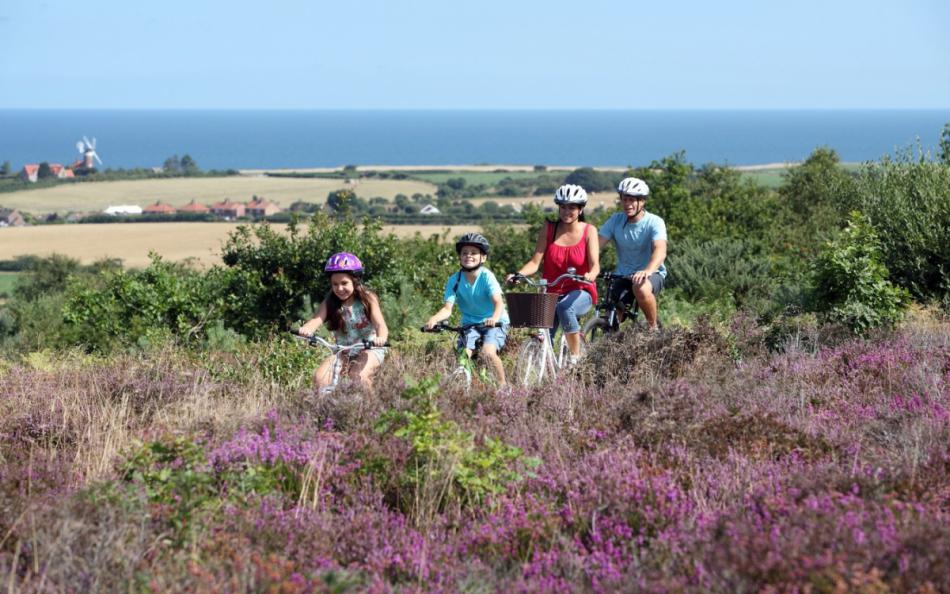 Weybourne, Norfolk
Kelling Heath Holiday Park is a little gem and we are more than happy to highlight this fantastic park just a short drive to Weybourne beach and Sheringham on the Norfolk coast. Weybourne beach is a pebble beach that is dog friendly, perhaps not the best for swimming as it can be steep and there is no lifeguard service, it is pretty, usually quiet and ideal for a stroll. Sheringham beach is mostly sand as the tide is out with shingle and stone at the higher tide marks, it has a dog friendly zone during the summer and also has RNLI lifeguards during the summer and is perfect for sunbathing and swimming. Sheringham has long been one of Norfolk's most popular beach locations, it really is very pretty.
Kelling Heath Holiday Park really is different though, it sits in heathland and woodland in an area of outstanding natural beauty with stunning walks and views. We love this park because it has an outstanding reputation for caring, enhancing and protecting the environment in which it sits. This park really is top of the pile when it comes to being conservation and environmentally friendly and is completely unique in its setting! This really sets the tone for how holiday parks should be managed, Kelling Heath Holiday Park is a shining example in the industry.
There is a range of accommodation including luxury holiday homes, lodges and touring and camping pitches at Kelling Heath Holiday Park. There is a pool, gym and full health and fitness club along with adventure playgrounds and tennis courts. There are various places to eat including the Terrace and a café along with a bar serving drinks.  We love this holiday park and think that it is well worth a view for anyone looking for a beach based holiday in Norfolk!
Why Book a Beach Holiday at Kelling Heath Holiday Park?
Outstanding example of a holiday park enhancing its surroundings.
300 acres of stunning heathland and woodland to enjoy.
Wide range of accommodation including lodges, tents and tourers.
Ideal location for families looking to unwind.
Kelling Heath Holiday Park
Weybourne
Holt
Norfolk
NR25 7HW
Tel: 01263 588 181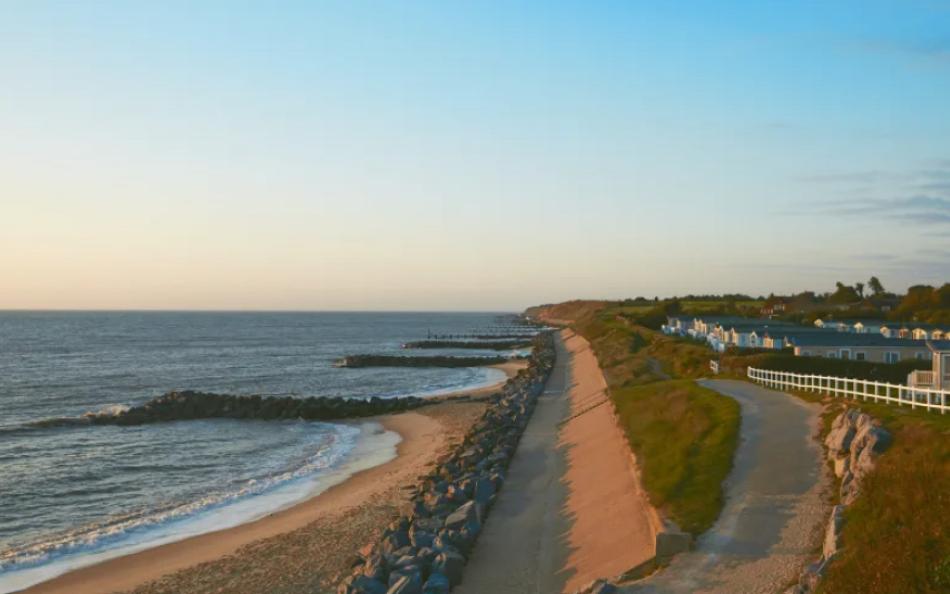 Hopton-on-Sea, Great Yarmouth
Hopton Holiday Village sits to the south of Great Yarmouth by Hopton Beach, this is a sandy beach punctuated by groynes to prevent coastal erosion. Hopton Beach is dog friendly and has no restrictions and as Hopton Holiday Village is a dog friendly park, it is also a great location if you want to bring your dog on holiday as well. The beach is directly accessible from the park, no need to worry about driving or parking, it is right there for you to enjoy. The beach is also quieter than many others around the area so plenty of space all year round and it is a really nice sandy beach, very safe and perfect for families.
We like this park because it has something for everyone including a nine hole golf course, indoor pool with slides and a very pretty outdoor pool with loungers. As with all Haven sites, food is plentiful with a range of places to eat including Papa John's and the very pretty Garden House. Entertainment as always is great with a strong Haven program and the park is very toddler and young child friendly, it is one of the better parks if you have a young family with a bug hunt to keep them happy. We think Hopton Holiday Village is great for a beach holiday park in Norfolk for families, easy access to a very nice beach and highly relaxing.
Why is Hopton Holiday Village Perfect for Beach Holidays?
Ideal for families, especially with younger children.
Direct no fuss access to a pretty, sandy beach which is great for kids.
All of the entertainment and facilities you will need.
A short drive to many attractions and Great Yarmouth
Hopton Holiday Village
Hopton-on-Sea
Great Yarmouth
Norfolk
NR31 9BW
Tel: 01502 730214
We hope that you have enjoyed reading about our holiday parks by the beach in Norfolk and if you think that there is a holiday park that deserves to be in our best Norfolk holiday parks by the beach, please let us know. We are always looking for recommendations and your feedback will help us to add more value for other holiday makers looking for that perfect beach based holiday in Norfolk.