Best Holiday Parks in Cornwall by the Beach
Find the Best Holiday Parks on the Beach in Cornwall Here
Cornwall has the longest coastline of any county in the UK at 1086 km according to Ordnance Survey, that is an amazing statistic when you think about it.  The longest coastline facing the Atlantic Ocean with cliffs, coves and some of the very best beaches. For many years, Cornwall has been one of the most popular counties for tourism in the UK and for many, the main attraction are the beaches and the sea and Cornwall has a lot of them, perfect for surfing holidays.
There are small coves, inaccessible stretches of sand and beautiful big beaches with crystal clear waters and stunning surf. The beaches on the north coast tend to get the biggest swells, especially in the winter time and walking the coastal path watching huge waves crash against the cliffs is a great experience. The beaches on the south coast also get big swells but tend to offer more shelter, depending on the direction that they face. Each beach has its own character, charm and attraction, there is something for everyone on the coastline of Cornwall. You can view more holiday parks by the sea here across the UK.
If you want a beach based holiday park in Cornwall, you need to find the perfect holiday park and beaches, there is a huge selection to choose from including dog friendly beaches in Cornwall. The surfing mecca of Newquay has probably the greatest selection of holiday parks, well established from small and intimate parks to large holiday parks with all of the facilities you will ever need.
There are rural parks set in the beautiful countryside and beach based holiday parks where you can ditch the car and walk down to heaven by the sea. We have a selection of holiday parks by the beach in Cornwall including parks with caravans for sale here for you to view and the top holiday parks in Cornwall for families, by no means exhaustive, there are plenty more to choose from, we just think that these parks stand out. If you want to find the best deals out there, please visit our cheap and last minute caravan holidays in Cornwall page for the latest offers.
Newquay, Cornwall
Hendra Holiday Park is a Cornish icon, one of the largest and most popular holiday parks where generations have stayed and return, year on year. It would be impossible to have a list of iconic holiday parks without including Hendra, this park has been welcoming visitors since 1972 and is still family run! Hendra Holiday Park has all of the facilities that you would ever want, the list is exhaustive, it still retains a lot of character and a real friendly and family feel that remains year after year.
Hendra Holiday Park is situated right by the A392 which brings you into Newquay so you do have to drive to get to the beach or you can catch the bus that takes you directly to Tolcarne Beach in Newquay. This places the park in a great location for exploring all of the beaches that Newquay and the surrounding area has to offer. From the iconic Fistral Beach that holds many of the major surfing competitions to Towan Beach and Great Western, there is something for everyone and the main beaches all have RNLI lifeguards during the main season.
You must explore further afield, Holywell Bay is gorgeous, dune backed with a stream that is great for younger children and good surf. Lusty Glaze is a must as well, truly stunning surrounded by cliffs. 
If you are looking for a large holiday park and have never visited the area, check out Hendra Holiday Park, it really has everything you will need whilst on holiday and has always been a popular park.
Why is Hendra Great for a Beach Holiday in Cornwall?
Iconic park, family run, easy to access, great facilities, perfect location!
It's not next to the beach but the location makes it really easy to access lots of beaches so you get a great choice!
Near to all of the Newquay beaches and easy to get to other surrounding beaches.
Hendra Holiday Park
Newquay
Cornwall
TR8 4NY
Tel: 01637 875778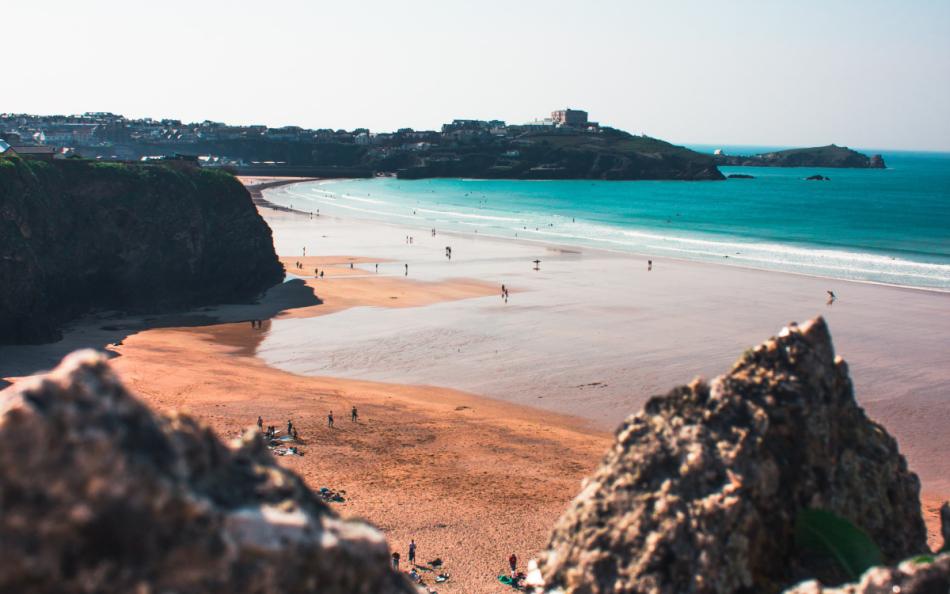 Polzeath, Cornwall
Polzeath Beach Holiday Park is really a contrast to Hendra in many ways, a simple holiday park that offers a range of quality static caravans for families that are looking for easy access to a beautiful beach in a stunning area. Polzeath Beach is just 300 yards from Polzeath Beach Holiday Park, no need for a car, it is a simple walk down making it a perfect holiday park for surfing holidays. Polzeath Beach is a wide beach at low tide and can be covered at high tides with the village being directly behind the beach. The big attraction here is the surf, the waves at Polzeath can be slower and easier to catch than more steeper sloping beaches so it is really popular as a beginners beach for people that want to learn how to surf. The waves are really easy to catch but it can get crowded in the summer months.
Polzeath Beach Holiday Park is just a short walk to the beach and the village, there are plenty of shops and places to eat and drink here and the surrounding countryside is really pretty. Port Isaac is a 4 mile drive, this is the location for the Dr Martin tv series! A great day out is to Padstow via the ferry from Rock, we advise getting to Rock reasonably early during the main holiday season as parking is limited. Padstow is a beautiful Cornish town, it gets very busy during the summer and there are beautiful beaches around the estuary area.
Is This the Best Holiday Park by the Sea in Cornwall?
300 yards from Polzeath Beach!!!!!!
A beautiful park in a beautiful location, take the ferry from Rock to Padstow!
A great beach holiday park, brilliant surf and perfect for active family holidays.
Lots of places to vidit nearby, Padstow, Port Isaac and Rock.
Polzeath Beach Holiday Park
Trenant Nook
Polzeath
PL276ST
Tel: 01208 863320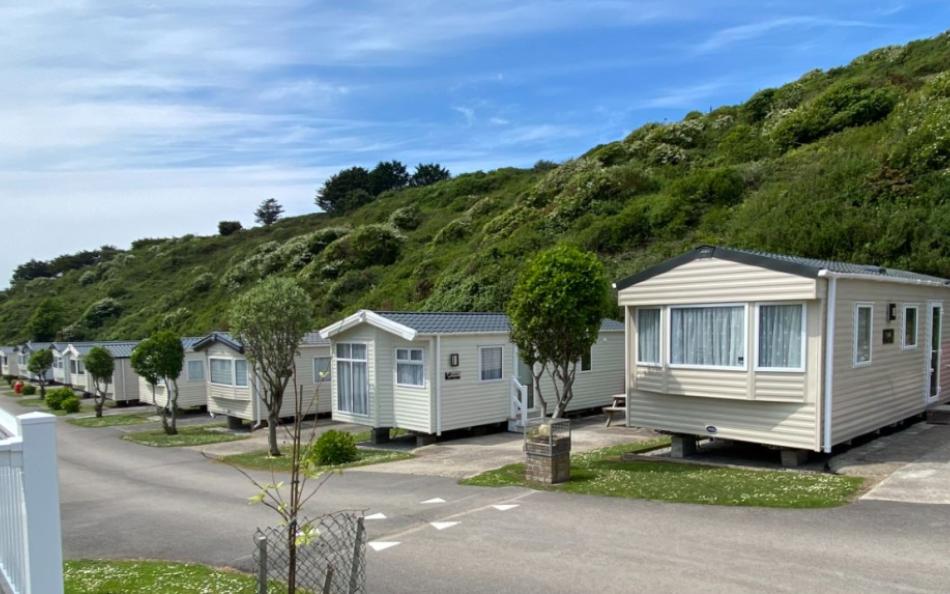 Widemouth, Cornwall
Widemouth Bay Caravan Park really sits in the middle of the two parks above, a medium sized park with good facilities, a short drive or a decent walk down to the beach and a short drive to Bude. This holiday park is situated on the North Cornish coastline further up from Newquay and a shorter drive for the majority. It does get busy during the main holiday season but not quite as busy as the main tourist areas.
The main attraction is Widemouth Bay beach and there are plenty of others as well nearby.  A great surfing beach and a great family beach with an abundance of rock pools at low tide. The beach is lifeguard patrolled during the summer months and at weekends during October. The surf here is great but less experienced should only surf in the lifeguard designated areas as there are rips and potentially reefs dependant on the tide. Bude is a great place to visit and the Bude Sea Pool is an absolute must if you love the water, it really is a fantastic and free attraction!
Widemouth Bay Caravan Park is a hilly holiday park surrounded by fields and woodlands, it is peaceful and sits on the outskirts of the village. There is an indoor pool and entertainment venue with a range of activities and family fun. The holiday park is really geared towards families with a kids club, sports and activity sessions. A great base with easy access to a cracking beach and there are plenty of surf schools nearby!  Top tip, visit the Bude Sea Pool, great fun in a magical location, brilliant on a summers evening as it is huge!
Why is Widemouth Bay Caravan Park Ideal for a Beach Holiday in Cornwall?
A short walk down to a fantastic beach, ideal for surfing and watersports.
Family holiday park with entertainment and good facilities.
Easier to get to than further down the coast and tends to be 'less busy'!
Widemouth Bay Caravan Park
Bude
Cornwall
Tel: 01288 361208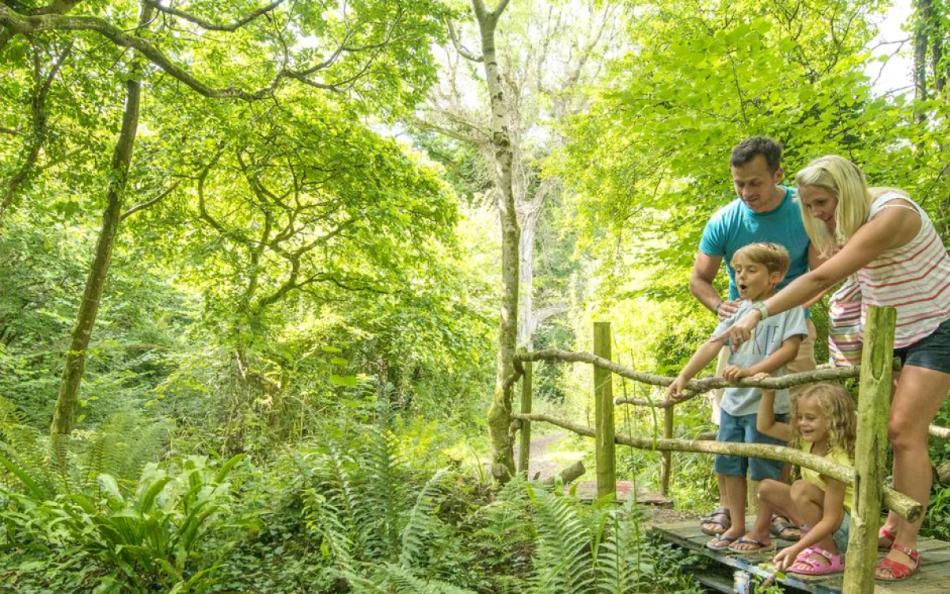 Perranporth, Cornwall
It really would be impossible not to have a mention for Perran Sands Holiday Park in a list of holiday parks by the beach in Cornwall. Perran Sands Holiday Park is a lot like Hendra, it is an iconic Cornish holiday park. Perran Sands Holiday Park sits right by Perran Beach and is one of the best holiday parks for surfing holidays, really better known as Perranporth Beach although they are different but one at low tide.
Perran Sands Holiday Park is really everything that you would want if you are looking for a large family holiday park over looking a stunning beach with fantastic facilities, it really does have everything. Perran Sands is better known as Perranporth Beach and is 2 miles long at low tide from Perranporth Beach to Ligger Point at low tide. It is an iconic Cornwall beach, beautiful sand, great surf, backed by dunes with the village at the south end providing all of the facilities that you will need. Perranporth does pick up big swells, if you are not experienced, please only surf and swim in the lifeguard patrolled areas. This editor has had personal experience of surfing big swells at Perranporth and nearly had to be rescued!
Perran Sands Holiday Park has everything from an indoor and outdoor heated pool to a big entertainment venue where you can enjoy daytime activities and evening entertainment all in one location. There is plenty to do including six outdoor play areas and there is even a surf school. The park is also dog friendly and there are even holiday homes for sale. The walk back from the beach can be a bit tough on little ones legs but we have done it with a buggy, well worth it because this beach is truly stunning!
Why Choose Perran Sands for a Holiday by the Sea in Cornwall?
Overlooking Perranporth Beach at the top of the sand dunes, really beautiful!
Perranporth beach is one of the best beaches in the country (in our opinion)!
Fantastic holiday park, amazing facilities, great entertainment complex, it has everything!
Perfect for family holidays, it is a big park, not the place for a quiet retreat.
Perran Sands Holiday Park
Perranporth
Cornwall
TR6 0AQ
Tel: 01872 573 551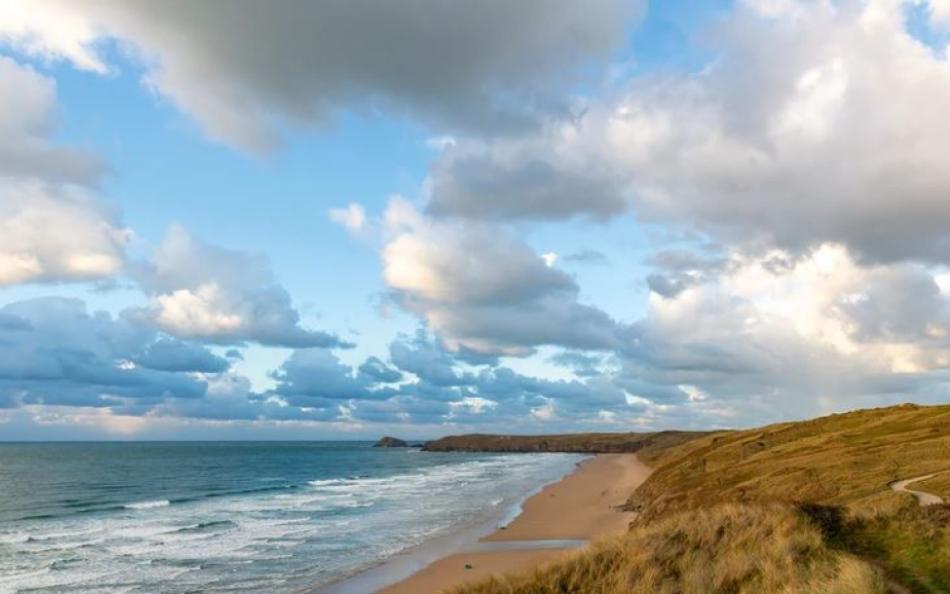 Near St Michael's Mount, Cornwall
River Valley Country Park is again a contrasting holiday park to the others above, it is actually a four mile drive to the nearest beach but what a beach that is, Marazion! We have chosen River Valley Country Park because its location makes it a great base for exploring the beaches of the south west of Cornwall and they really are fantastic beaches. We chose this park as well because it is a stunning park that blends in with a peaceful, countryside location and is a David Bellamy Gold Conservation award winner and a honey bee friendly park. This is a 23 acre holiday park set in a secluded valley with a stream down the middle and woodland to the side. It is peaceful, simple, friendly and popular with families that want to escape and feel like they can relax in an idyllic setting away from any of the hustle and bustle!
So, more about the beaches around River Valley Country Park! Marazion is just stunning, a four mile drive from the park and home to St Michaels Mount. This is a must visit beach if you are in this part of Cornwall, safe, clean and perfect for sand castle building, family friendly with easy access, truly spectacular. Perranuthnoe beach is a 3 ½ mile drive, it does get covered up to shingle at high tide, popular with surfers and families, great for rock pooling. Praa Sands has unusually white tinted sand, mile long beach easily accessed from the village and it is very popular in the summer. Porthleven Beach goes on for 3 miles at low tides and the village is absolutely beautiful. If you are here when there is a big swell, Porthleven is home to one of the largest rideable waves in the country, only for pro surfers though!
Why Choose River Valley Country Park for a Holiday by the Sea?
Total opposite to Perran Sands, this is indylic and peaceful!
Independent park, really well kept in a stunning valley location.
Great access to a huge range of beaches on the South Cornwall coast.
River Valley Country Park,
Relubbus,
Penzance,
Cornwall,
TR20 9ER
Tel: 01736 763398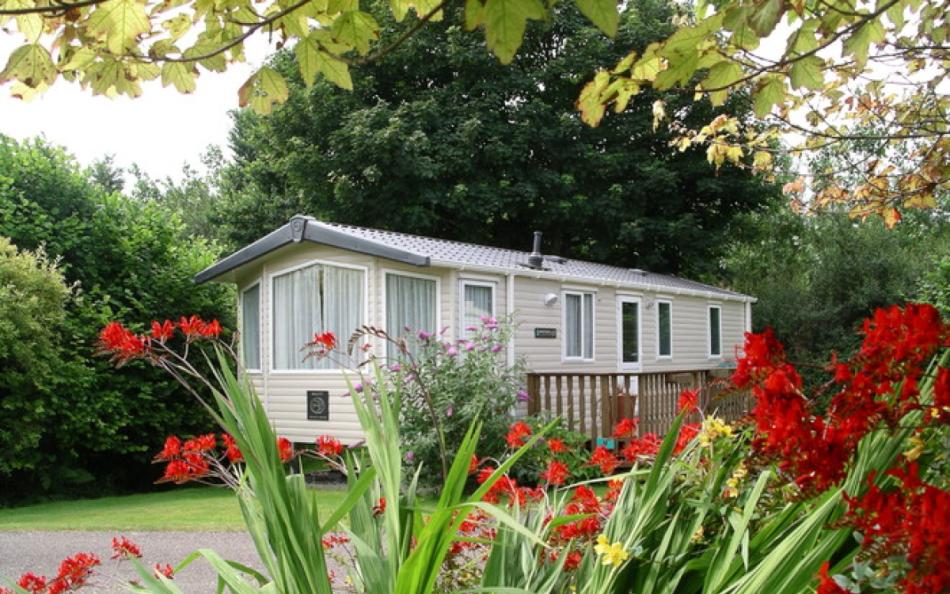 Near St Austell
Par Sands sits on the south coast of Cornwall and is 4 miles from St Austell and is a great beach if you have young kids. The beach is a large sandy beach backed by sand dunes with Par Sands Coastal Holiday Park right behind the beach. It is gently sloping with headlands jutting out at either end so gets sheltered from a lot of the swells making it absolutely perfect for a family holiday by the beach in Cornwall if you have young children. The beach is so sheltered that it has no lifeguard service. It does get busy in the summer and is fairly large so you can always find a bit of space. This is not really a beach for mad keen surfers, more suited for families looking for a tranquil beach and a holiday park literally right next to the beach.
Par Sands Coastal Holiday Park is billed as a luxury holiday park so it may not suit all budgets but there is a quality and relaxed feel to the park. The facilities reflect the size of the park with an indoor pool and a beach café, the sports and tennis courts are great as well. This is a pet friendly holiday park and dogs are allowed on the beach all year around. This is probably ideally suited for families and couples looking for a relaxing holiday base with easy access to a tranquil beach.
Is Par Sands Coastal Holiday Park Perfect for a Family Beach Holiday?
Sheltered location makes this ideal for families with younger children.
Really pretty beach backed by sand dunes, natural and peaceful.
Luxury holiday park with top class facilities!
Par Sands Coastal Holiday Park
Par Beach
Par
Cornwall
PL24 2AS
Tel: 0800 4840106
Near Bude, Cornwall
Sandymouth Holiday Resort was a family run holiday park for many years and is now part of the Darwin Escapes group. The Park is included for two reasons, it is exceptionally well maintained and a short walk to an unspoilt and very beautiful beach. The Park itself is a medium sized park with some spectacular views from a range of static caravans, they used to have a camping field which was windy but an amazing location! The accommodation is also very high quality and very well maintained as are the park facilities. The pirate ship adventure playground is great fun for younger children and there is a good sized indoor pool as well and a nice and informal entertainment venue, the food is also very good!
Sandymouth is a stunning beach with huge cliffs as the backdrop, a pebble beach at high tide and sandy beach at low tide with rock pools galore to explore. The beach is a 10 minute walk from Sandymouth Holiday Resort and it definitely is not flat so not for those that struggle with slopes. There are Lifeguards during the main season and the beach is westerly facing and catches the full Atlantic swell, it is also popular with surfers. It is unspoilt one of our favourite beaches on the North Cornish coastline and is best enjoyed at low tide. An exceptionally pretty beach with a stunning backdrop, the coastal path walk is an absolute must as well!
Why Choose Sandymouth Holiday Resort for a Holiday by the Sea?
Sandymouth is gorgeous, very tranquil and very beautiful compared to the more popular beaches.
Really pretty park, extremely well maintained and amazing sea views.
Near to Bude but in a quiet location, lots of great walks nearby (Tamar Lakes is great!).
Sandymouth Holiday Resort
Sandymouth
Stibb
Bude
EX23 9HW
Tel: 01288 352563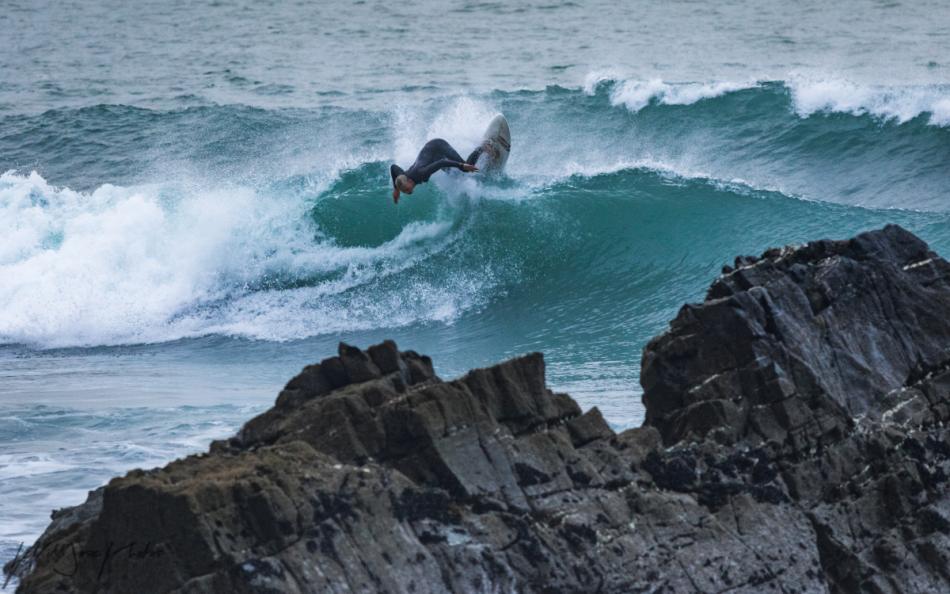 Near St Ives Bay, Cornwall
Riviere Sands Holiday Park sits on the edge of Three Mile Beach which is actually a continuous collection of beaches with various names including Riviera Towans, Hayle beach, Gwithian Beach, Gwithian Towans, Upton Towans beach and Gwithian Towans, in essence, one very long and very stunning beach.
Riviere Sands Holiday Park sits to the south end of the beach with direct access to the beach and is on the outskirts of Hayle on the North Cornish coastline. This beach is just gorgeous, truly natural and is big enough that even on the hottest summer days, it doesn't feel that crowded. It is just stunning though, the scenery is unforgettable, sand dunes, dramatic rock outcrops, sheer cliffs, this beautiful stretch of beach really has everything. The beach is popular with surfers, it does pick up big swells so please swim in the lifeguard patrolled areas.
Riviere Sands Holiday Park sits above the beach, there are some cracking views and great accommodation along with fantastic facilities. The Park is also just a short walk into the centre of Hayle and St Ives and Carbis Bay are just a short drive away. In essence, a great holiday park for the family, especially if you like water sports with the stunning town of St Ives just a short drive, a must visit place as well. Riviere Sands Holiday Park has an indoor and outdoor heated pool, restaurant, café, entertainment venue, play area and a surf school. A great holiday park for couples and families, well worth investigating.
Is Riviere Sands Holiday Park Perfect for a Family Holiday by the Sea?
On the outskirts of Hayle, near to St Ives and Carbis Bay - stunning places!
Holiday park sits above the beach, very pretty with easy access and great facilities.
Three miles of beaches that become one as the tide goes out.
Riviere Sands Holiday Park
Riviere Towans
Hayle
Cornwall
TR27 5AX
Tel: 01736 752132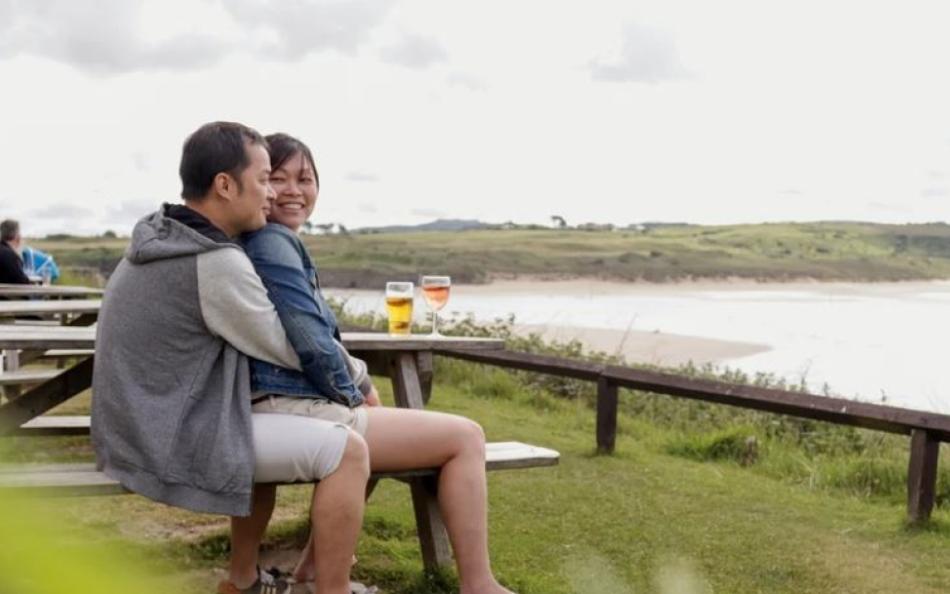 St Austell, Cornwall
Pentewan Sands Holiday Park sits on its own privately owned beach, completely beautiful and perfect for families that want a more tranquil beach. As the holiday park actually owns Pentewan Sands, the beach is kept immaculately clean. We must mention first that the holiday park does not accept dogs and has caravans, motorhome and touring pitches and camping pitches.  This is one of the larger parks and has great facilities, the beach though is the main draw, it really is totally stunning. Not a big surf spot with huge waves, a more tranquil beach with blue water and white sands, ideal for families with younger children, one of Cornwall's finest beaches for families.
Pentewan Sands Holiday Park is a reasonably large holiday park and has some fantastic facilities. There are two indoor swimming pools including a standard pool and a play pool with a water flume.  There is a soft play area, amusement arcade and a very popular restaurant, when the locals are eating here, you know the food is going to be good! Watersports are a great draw as well, the gentler nature of Pentewan Sands means that it is ideal for stand up paddle boarding, kayaking and they even do banana boat rides. If you love the water but maybe not huge surf, Pentewan Sands Holiday Park is a great place to take a holiday.
Pentewan Sands Holiday Park has its Own Beach, is it the Best?
Holiday park with its own beach which is immaculate!
Ideal for families, based on the south coast of Cornwall.
Large park with great facilities, two pools and a play area.
Pentewan Sands Holiday Park
Pentewan
St Austell
Cornwall
PL26 6B
Tel: 01726 843 485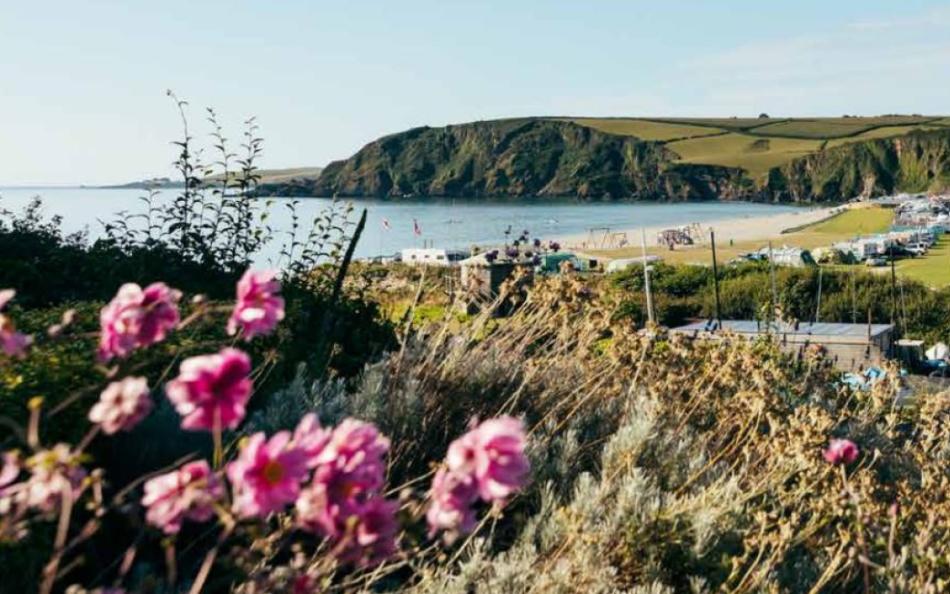 Newquay, Cornwall
Trevella Holiday Park gets a mention here because it is close to the amazing Crantock Beach in Newquay and there are fishing lakes, ideal for caravan fishing holidays. Let's face it, some dads, or mums for that matter, don't want to spend every day down the beach and a spot of fishing provides a great form of relaxation! Crantock beach seems to change by the seasons, at least the path of the river does!  A lot of locals think that this is Newquay's best beach and it is really beautiful, surrounded by National Trust land and with a limited car park, there is plenty of space, especially at low tide.
Trevella Holiday Park is a reasonable walk down to Crantock, probably around 10 to 15 minutes but it is worth it, the beach is just so natural and pretty, one of our favourites. The holiday park has two well stocked coarse fishing lakes, ideal for a fishing holiday park in Cornwall, an outdoor heated pool, kids playground and crazy golf. It is not the wild and super huge holiday park that suits some families, more laid back, relaxed and it just really fits in well with Crantock Beach and the village, just chilled!
Trevella Holiday Park near to Crantock Beach, Possibly Newquay's Best Beach?
Some of the locals think Crantock is the best beach around Newquay, you could find out!
Quiet and relaxed park, a walk down to the beach, out of the hussle and bustle!
Fishing lakes to keep dad happy on holisy!
Trevella Holiday Park
Crantock
Newquay
Cornwall
TR8 5EW
Tel: 01637 808465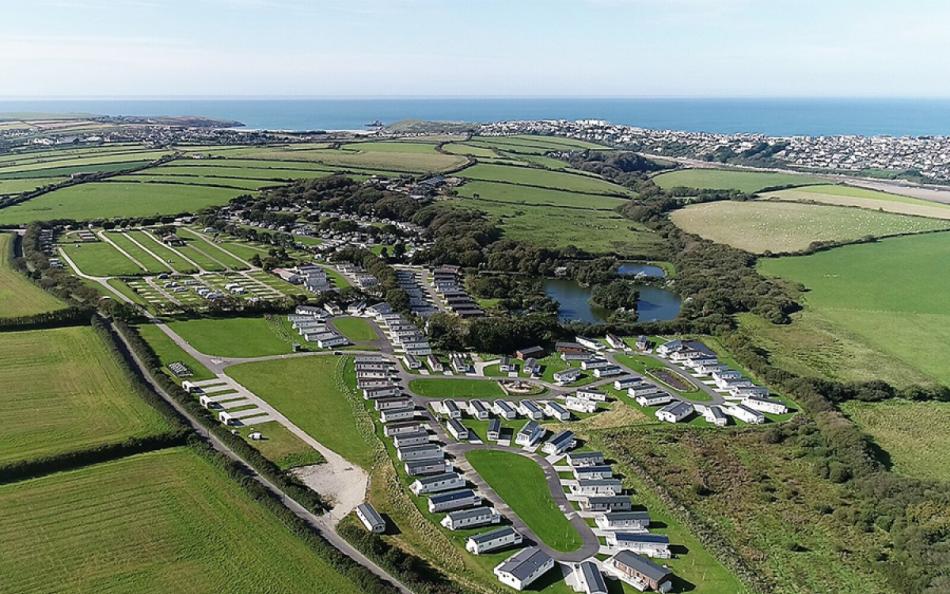 There you have it, we think a cracking selection of the 10 best holiday parks for beach holidays in Cornwall. They are by the beach, near the beach or maybe inland but with easy access to a range of beaches. From the pumping surf of the north coast, to the more tranquil south Cornwall beaches, a variety that provides something for every family or couple looking to visit stunning Cornwall. With 1086 km of coastline to explore, we certainly haven't covered everything but we hope to have provided you with a good variety of choice!
If you have any suggestions about other parks, we would love to hear from you, please contact us and let us know what you think!
View Further Holiday Parks by the Sea in Nearby Regions